---
Below are some highlights for this month.
Click subscribe here at the bottom of the page to receive monthly news and updates about CATC.
---
Ground Tax
The Aruba Tax Authorities announced the 2022 ground tax assessment. Given that a ground tax assessment is based on 5 years (2017 was the first year of the last 5-year period), the year 2022 will be the first year of a new 5-year period (2022-2026). Taxpayers are advised to go through the assessment and verify if this is correct. Any objections against the assessment can be filed within 2 months of the date of the assessment (31 May 2022), thus taxpayers have until August 1, 2022, to file such objection letter. If the assessment is correct, kindly take note of the following payment dates stipulated by law:
For completeness, please be informed that a ground tax assessment can be divided into four (4) terms, one for each quarter in a year.
Payment date: 30 June 2022
50% over the assessment related to the period January – June (1st and 2nd quarter)
Payment date: 30 September 2022
25% over the assessment related to the period July – September (3rd quarter)
Payment date: 3 January 2023
25% over the assessment related to the period January – June (4th quarter)
Full payment of the 2022 ground tax assesment should be met by January 4, 2023, at the latest. For any questions you may have, please contact one of our Tax advisors.
---
Overview of the upcoming deadlines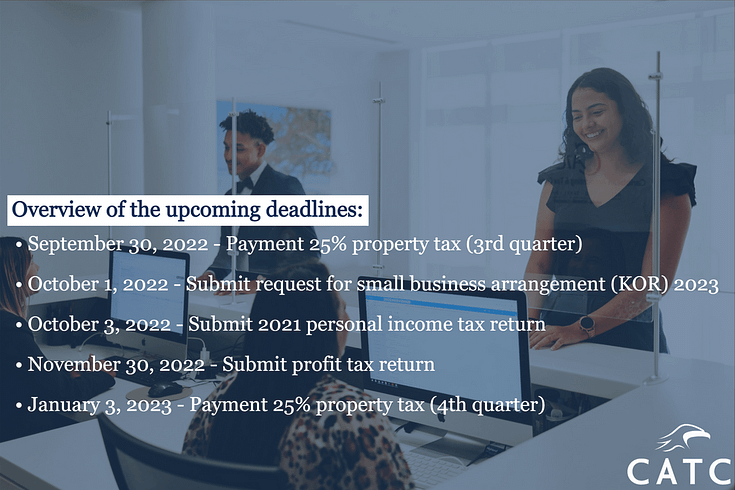 To help you make sure you don't miss any important 2022 deadlines, we've provided this overview of the upcoming deadlines. Please review the deadlines and let us know if you have any questions. If you need any assistants, contact us at +297 527 5500 or email us at info@catcgroup.com for more information.
---
Happy 25th work anniversary Indrah
Indrah, you have come a long way since you started with us twenty-five years ago. CATC is grateful for your contribution and dedication that has helped us evolve. Thank you for dedicating your twenty-five amazing years of work to CATC. Happy work anniversary!🎉🎊
---
---
Professional accountants facilitate financial management and efficient operation of your business to save you considerable sums of money. CATC offers a wide range of services to help you keep your finances accurate and up-to-date so you can focus on your business and comply with financial and tax regulations. We can help you save money by:
Cutting down on your responsibilities: hiring one of our professional accountants frees you up to attend more to the central responsibility of managing and growing your business.
Professionalism: it is a safe bet that a professional accountant manages and keeps track of your finances. Our professionals do things right the first time and help avoid spending more time and money to repair bookkeeping errors.
Financial reporting accuracy: accountants have financial expertise, which means outsourcing the work increases the accuracy of financial reports. Our accountants are familiar with various types of records and information businesses need in different situations. Instead of the business owner researching accounting rules, learning how to use software, and putting together their financial reports, accountants handle all of this.
Tax time: tax season is a stressful time for all, including small businesses. The necessary process can be incredibly time-consuming and draining. Having one of our tax consultants handle your taxes will save you time and money and possibly some physical and mental anguish. Your accountant knows the ins and outs of your company and has easy access to all of the information needed to complete tax filings correctly.
The efficiency of tax returns or audits: working with one of our tax consultants or accountants simplifies tax time because the financial pro can provide advice and help create the records necessary for filing taxes. That will make preparing tax returns secure, and in the event of an audit, we can assist you in the process so it will go fluently.
---
Happy 17th work anniversary Camille Muyale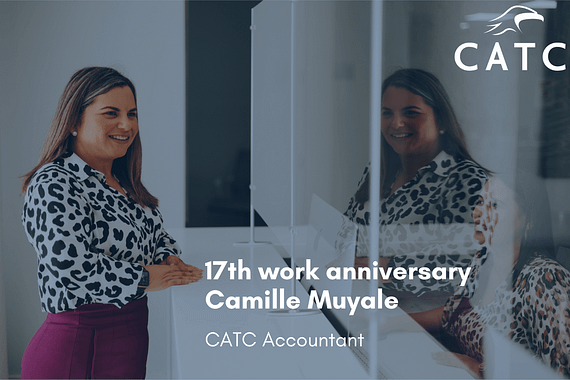 Happy 17th work anniversary Camille Muyale!
On August 18, 2022, we celebrated the work anniversary of Camille Muyale, who has been an integral part of CATC since she arrived. We appreciate the hours you put in, the efforts you always make, and the help you are always ready to give. Thank you & Happy work anniversary🎈🎊